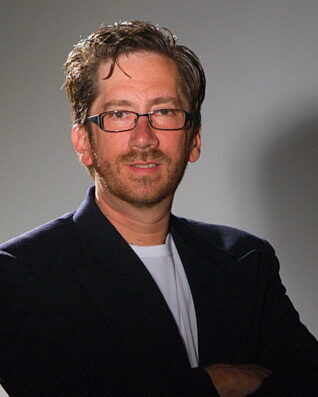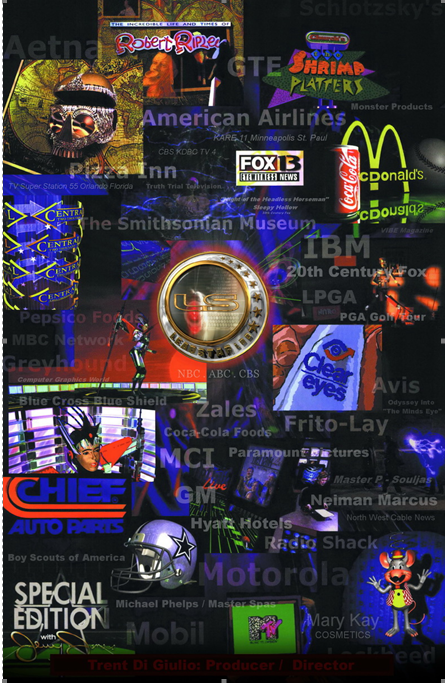 Trent J DiGiulio
Advisor – Commercial
20+ Time Award winning show projects producer/director for his clients, 19-time International and US combined Award Winner Documentary producer. Producer, Director, Cinematographer, and 3D Stereographer- as Dir/Producer, Trent Di Giulio has extensive national production experience in the Film and Television business.
From feature film production to the directing of over 400 commercial productions, Di Giulio has led the industry with his creative and unique abilities. With over 1500 projects under his direction, Di Giulio created beautiful, powerful, and unique HD, Ultra HD and beyond production work as well as high-end special effects, 3D & 2D animation and highly integrated graphically driven media.
His list of clients are at the top of the industry with such leaders and corporate giants as: MTV, 20th Century FOX, Paramount Studios, Ripley's Believe it Or Not, American Airlines, Radio Shack, Mazda, Pepsi, IBM, GM, Zales, J.C.Penny's, Pizza Inn, Clear Eyes, McDonald's, Mobil/Exxon, Michael Jackson Tribute Concert, Michael Phelps / Master Spas, Walker Texas Ranger, LPGA, AVIS, Hyatt Hotels, PGA, Aetna, to network affiliates NBC, ABC, FOX and CBS and virtually hundreds more notables of Who's Who in the national agency business, film and broadcast area.
Leading the way in a young industry, since 1986, Di Giulio has made his mark in animated features, commercial work and music videos. Developing powerful and provocative imagery for a host of other markets, from stylized Music Videos, to specialized government & military training material, and highly graphic integrated media, using 3D stereo HD & Ultra-HD media, Green Screen technology and incredible 3D/Stereo 3D graphics.
Trent Di Giulio also led CAT-Studios as its founder to the forefront of high-end 3D animation, 2D animation, and special effects along with Stereo 3D work, making the studio a premier animation studio in the Central US. With Di Giulio's vision the company started as the first high-end boutique house in the United States.
Di Giulio began his career at age 14. Attending an advanced middle school in Arizona, he was able to begin his studies in television at the University of Arizona in Tucson. He worked with KUAT-TV, the university-based PBS affiliate station, for almost two years. He went on to produce 4 television programs for PBS and cable markets before completing high school.
In addition, he has extensive experience as a DP / Director of Photography as well as a Master Directorial Editor, 3D Stereographer, versed in 4K / Ultra-HD shooting, DP, Director and Editing Director. He is also proficient in directing "Performance Capturing" or commonly called "Motion Capture" Production. From script to screen Di Giulio has been involved in the direction of hundreds of projects from both small to large-scale and long format production. Di Giulio is a member of IMDB.
Other Projects
Film and Documentaries: "OPPENHEIMER AFTER TRINITY" Director, "The ATOMIC ROCKTEER" Director, "The COSMIC TRIGGER" Director, ALAMOGORDO CENTER OF THE WOLRD TRINITY 1945 Director of these film projects, and others… "Chalk Hill," Feature Film (in Pre-Production 2024) Producer. "Adventures of The Elements" is another children's 3D animated broadcast series with over 1.5 million in pre-production currently as Director. Other features in pre-production are "The Lost Dutchman's Gold Mine" Animated Feature, as Director,